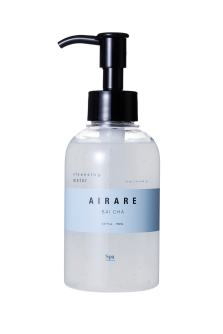 500円玉大程度を手に取り、
お顔全体に広げてメイクとよくなじませ、
たっぷりの水またはぬるま湯で洗い流します。
メイクをしていない方にもお使いいただけます。
特に汚れが気になる部分にもお使いください。

To cleanse skin and remove face makeup, place Quarter coin- size amount of AIRARE cleansing water onto the palm of your hands. Gently massage onto face and rinse thoroughly with water or warm water.
It can also be used for who put no makeup.
Recommended to use especially, for the oily or part of the skin you would like to cleanse.